Embraer's new Praetor 500 (pictured) and Praetor 600 business jets are making their LABACE debut on static display at Congonhas Airport, São Paulo, Brazil, on 13-15 August 2019.
The Praetor 500 midsize jet has a continental range of 3,250 nautical miles (6,019km) for up to nine passengers. The Praetor 600 super-midsize jet accommodates 12 passengers, with an intercontinental range of 4,018 nautical miles (7,441km).
"With superior design and ergonomics, the Embraer DNA Design is complemented by the most comfortable flight and the best cabin altitude (5,800ft) in its class, as well as the smoothest possible flight, rendered by the class-exclusive turbulence reduction based on Embraer's full fly-by-wire technology," said Gustavo Teixeira, vice president of sales, Latin America, Embraer Executive Jets. "High-speed internet connectivity is among the features that serve customers with greater productivity and comfort."
Embraer also emphasised its presence in the Brazilian market. Over the last 10 years, one of every two business jets delivered in Brazil was made by Embraer. On average, one Embraer executive jet takes flight every 20 minutes in the country.
"The business jet is an incomparable productivity tool and this is why we designed our aircraft to serve entrepreneurs and executives in the region with the versatility for them to reach many more destinations, when and where needed," said Teixeira. "With connectivity throughout the flight and time saved from the traditional commercial aviation bottlenecks of the region, customers can take care of business and deliver greater returns to their companies and ventures."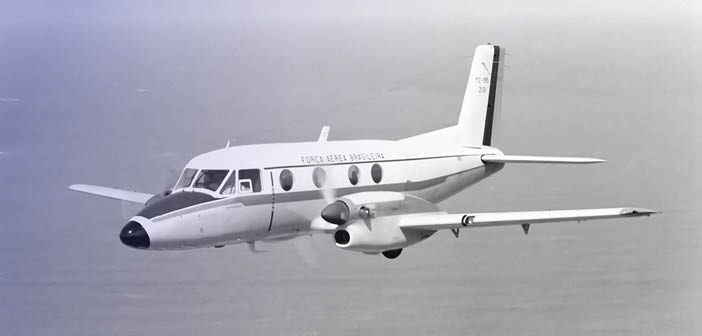 In addition to the new Praetor jets, Embraer will exhibit the Phenom 100EV and the Phenom 300E. In celebration of its golden jubilee, Embraer will also exhibit its pioneer, the Bandeirante (pictured above), a twin-engine turboprop aircraft that led to the creation of Embraer on 19 August 1969, for its serial production.
The company will also showcase its new interior workshop, at the Sorocaba service centre. There is a new showroom for aircraft customisation accessories, material samples and modification cases. There is also a software application that allows customers to evaluate and validate interior configurations. Customers can work with Embraer Design Operations (EDO) for designs, while partner F/List Brasil contributes its expertise in cabin interior services.