Aircraft Interiors Expo (AIX) has released its Diversity in Aviation report, celebrating the industry's progress and commitment to diversity, equity and inclusivity (DE&I) initiatives. AIX will be held on 6-8 June in Hamburg, Germany.
The report features insights from some of the world's leading airlines and suppliers, including JetBlue, United Airlines, British Airways, Airbus and Virgin Atlantic. Split into five chapters, Diversity in Aviation delves into disability, female leadership, race and ethnicity, self-expression, and the business case for diversity.
One of the biggest challenges facing the commercial airline sector is accessibility. More than half (56%) of passengers living with a disability find flying and using airports difficult and airlines are investing heavily to make flying more accessible to all. However, Christopher Wood MBE, disability lobbyist and founder of Flying Disabled, who contributes to the report, has suggested that air travel is "behind other forms of transport with accessibility and inclusion".
Ahead of this year's Passenger Experience Conference on 5 June – where Wood will talk about revolutionising air travel for passengers with reduced mobility – the report analyses what airlines have implemented and how they are innovating the cabin for all passengers.
Having released its Women in Aviation campaign earlier this year, AIX's latest report further explores gender equality and female leadership, citing a BA poll that revealed 63% of women are put off a career as a professional airline pilot – for reasons including a lack of visible role models and being told it was a 'man's job'. Under the surmise that 'If you can't see it, you can't be it', the report concludes the industry must improve visibility of female leaders both at the top and in broader roles to achieve gender equality and instigate wider cultural change.
Following an all-Black British Airways cabin crew operating a flight for the very first time, the report also reviews how airlines around the world are implementing racially diverse and inclusive cultures. A spokesperson for the UK's flag carrier said: "As part of our BA Better World strategy, we're creating inclusion and diversity programmes, and building partnerships with groups like Fantasy Wings to help break down barriers and ensure underrepresented groups can access the exciting opportunities available within the aviation industry."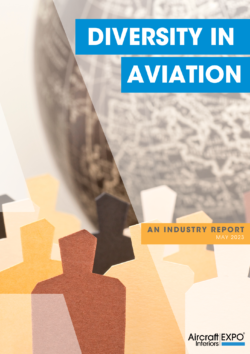 The report goes on to explore self-expression in the cabin, a prominent topic in an industry historically known for its firm dress codes. A number of aviation professionals discuss the ways airlines are allowing cabin and ground crew to express their identities freely. Estelle Hollingsworth, chief people officer of Virgin Atlantic – a trailblazer in this space, said: "Many people use tattoos to express their unique identities and our customer-facing and uniformed colleagues should not be excluded from doing so if they choose". The chapter also reviews the policies of other major airlines that are helping transform the sector.
Concluding the report is an evaluation of the business case for diversity, exploring how it can boost an organisation's customer engagement, marketplace reputation, talent acquisition, and profitability. Citing research from McKinsey & Co that found companies in the top quartile for gender diversity are 25% more likely to score above-average profitability than other quartiles, the chapter highlights how airlines can implement a D&I strategy that drives real value and performance.
Commenting on the AIX Diversity in Aviation report, Polly Magraw, event director, Aircraft Interiors Expo, said: "The aviation industry is one of the most globalised, international industries, and it's vital that it is reflective of the modern world. Ahead of this year's AIX event, where a large number of suppliers will be showcasing solutions to make the cabin more inclusive, this report takes a broad look at the challenges the industry has faced and what it has achieved already. We hope that the report can act as the keystone on which the industry can continue to work towards creating a fully diverse, inclusive workforce with equal opportunities for all."
The Diversity in Aviation report can be downloaded for free.
Aircraft Interiors Expo (AIX) returns to the Hamburg Messe on 6-8 June 2023 in Halls B1-B7. It will follow the Passenger Experience Conference (PEC), held at Congress Center Hamburg (CCH) on 5 June, and will be co-located with World Travel Catering & Onboard Services Expo (WTCE), which can be found in Halls A1 and A4. Together, the events will provide passenger experience professionals with a unique opportunity to identify new products and solutions throughout the cabin. To register your interest to attend, visit the AIX website.