The Phenom 300MED – a medevac solution for the Phenom 300 series light jet – has received STC certification from the US FAA and EASA.
The STC was performed at Embraer's service centre in Fort Lauderdale, Florida. The on-demand charter operator Grandview Aviation is the launch customer.
"We are pleased to announce the certification of the Phenom 300MED by the FAA and EASA," said Marsha Woelber, vice president of worldwide executive jets customer support and aftermarket sales, Embraer Service & Support. "The medevac solution provides superior value, benefiting from a market-leading product such as the Phenom 300 series, combining its unique capabilities with a fully comprehensive medical solution."
The Phenom 300MED aeromedical interior was specified by Embraer and developed and certified by engineering services provider umlaut, part of Accenture, utilising Aerolite equipment. Aerolite developed the Intensive Care Unit (ICU) specifically for the Phenom 300MED. As per the certification requirements, umlaut conducted an evacuation test to confirm two fully disabled patients could be evacuated.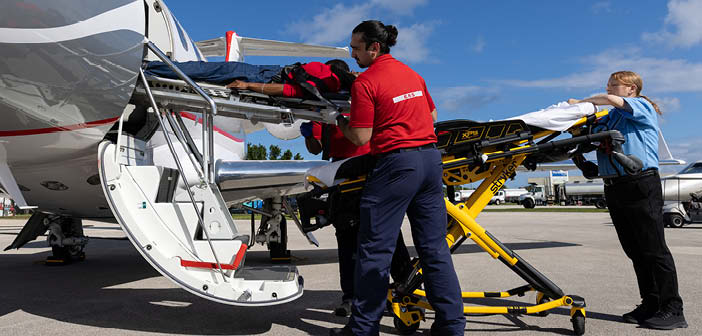 The medevac solution, which is available for new and in-service aircraft, is exclusively installed by Embraer's Services & Support organisation.
Embraer and umlaut developed a comprehensive set of configuration alternatives for the Phenom 300MED. These include either one or two stretchers, the ability to carry an incubator, and additional medical equipment. The aircraft also features hospital-grade trim and finishing. As a purpose-built medevac solution, the Phenom 300MED is designed to be quickly and easily configured to meet the various needs of both healthcare providers and patients. The aircraft is also designed with agility in mind, able to convert between an executive and a medevac interior in as little as five hours.
The aircraft integrates Aerolite medical equipment. Aerolite is a leader in the design, engineering, production and installation of air medical interiors, with more than 500 medevac interiors delivered.