PriestmanGoode reveals its design for the ultimate inflight dining experience
With this concept, The Culinary Odyssey, PriestmanGoode wanted to create the ultimate dining experience in the sky, particularly for a younger profile of client emerging in the luxury sector. "This concept is designed around putting the chef – whether that's staff or a passionate owner – at the heart of the social space, creating a stage for a culinary performance where everyone is included," says Ben Rowan, director, PriestmanGoode. "It transforms from day to night, work to pleasure, formality to relaxation; it's open to the possibilities of how people dwell in a contemporary setting, whether that's perching, slouching, laying or sitting formally."
') } else if (width >= 425) { console.log ('largescreen'); document.write('') } else { console.log ('nompuad'); document.write('') } // -->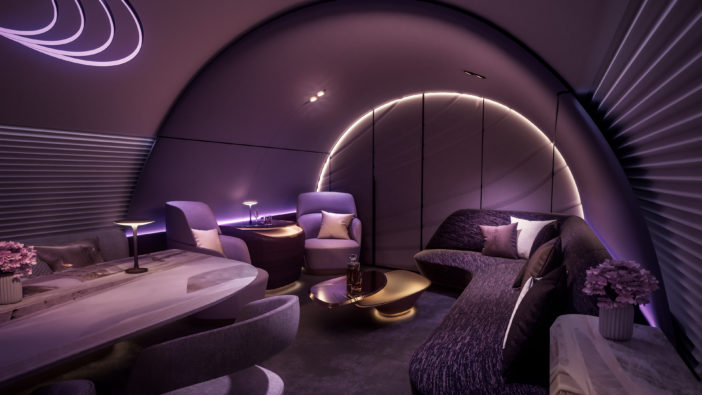 Splits in the cabin architecture, and contrasting materials, are used to zone-off each area – the kitchen, dining space and aft lounge. With its details such as bespoke commissioned textiles, custom metalwork and hand-tufted carpets, the space takes inspiration from luxury hotels and residences, but the experience is the key thing.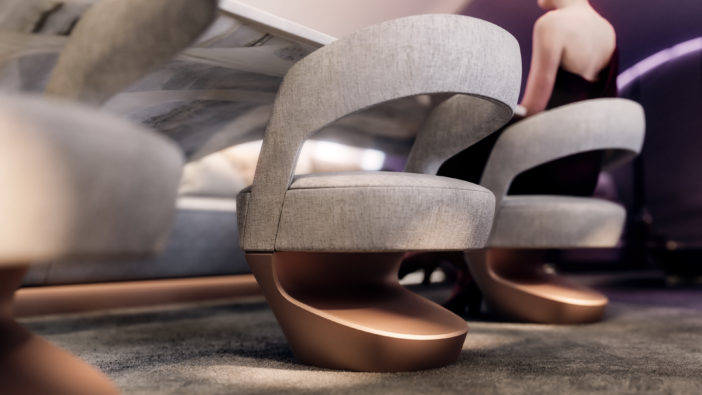 "As the main cabin space opens up, through an innovative angled layout, the first impression is the sight of the chef's table – a stage from which the gastronomic journey will unfold," says Rowan. "The space and lighting invites the passenger towards the dining area for canapés. This is an expansive, sharing space."
The chef's table surface and surrounds are minimal, so the area can transform after service, for example to be a self-service dining area. The kitchen walls are covered in a woven metallic mesh and the area can be closed off.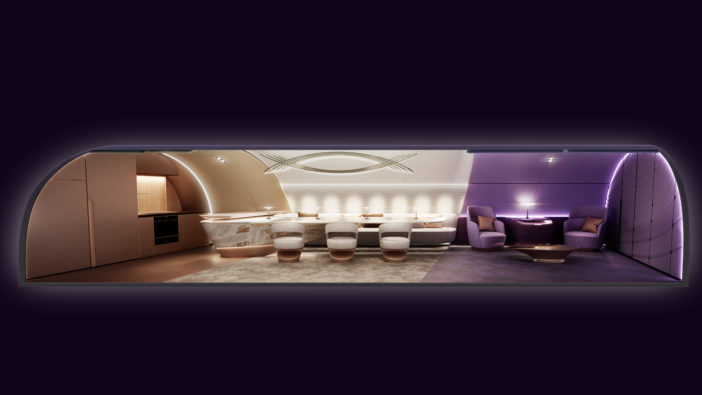 Meanwhile, the dining table doubles as a co-working space. Following on from this is the lounge, configured for less formal discussion, working from a tablet, or as an entertainment zone. This area features bespoke chairs, a curved banquette and a sculptural feature wall.
The concept is based on the A320 airframe but Rowan says it is adaptable across any type of aircraft. "Rather than a catalogue item, this interior is indicative of where trends are heading and the expectations of the next generation of private jet customers," he says. "Drawing upon all the youth and insights we have in the studio, we have more ideas in the pipeline to start different conversations on future projects that align with our clients' passions and interests."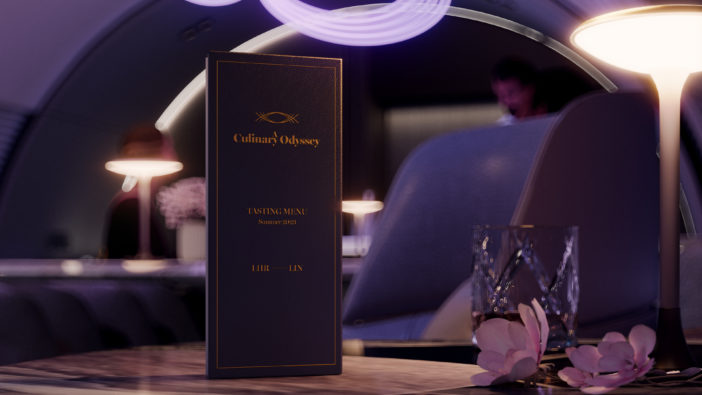 Key features of the cabin include:
Coffee table
The coffee table in the lounge area has a second surface that can rotate out to double the size of the table to facilitate sharing when the lounge is being used, retracting to open up space when needed, for example in boarding.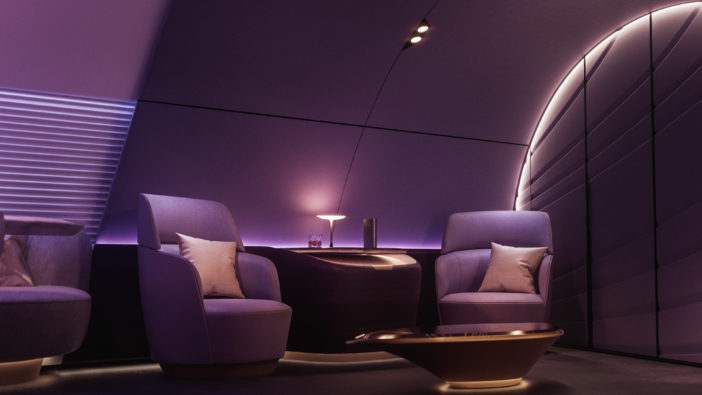 Lighting
The dramatic, flowing light feature above the dining table casts an animated light pattern onto the ceiling and is intended to create an immersive atmosphere. As the evening progresses, the lighting evolves to form a more intimate setting.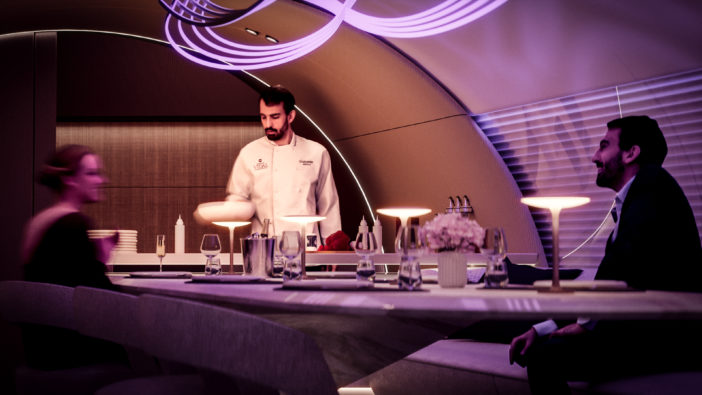 Marble
The dining table and credenza are finished with marble marquetry to entertain the eyes, implemented in a restrained palette in keeping with the contemporary aesthetic.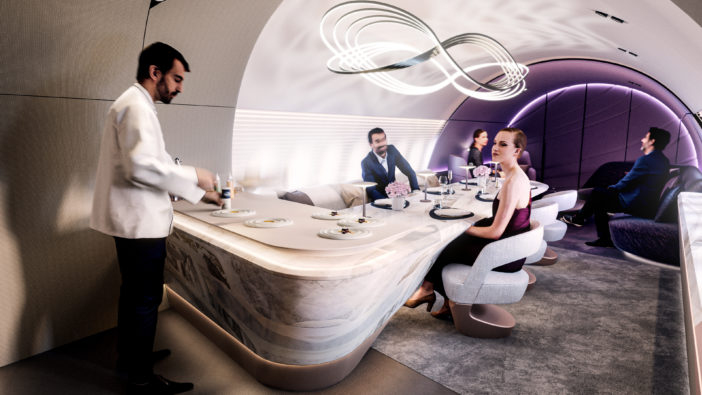 This feature was first published in the September/October 2023 edition of Business Jet Interiors International.