A futuristic concept developed by Rosen Aviation, KiPcreating and Sky-Style to envisage how cutting-edge technology and aesthetic design could be blended, has picked up an award nomination. The concept is a finalist in the Cabin Design – Concept category for the 2021 International Yacht & Aviation Design Awards.
Driven by customer demand for an experience beyond anything currently available, coupled with the challenge faced by interior designers to create beautiful cabin environments with limited space and bulky components, Rosen sought to employ diverse sensor technologies and integrated display surfaces to create an intuitive, immersive space.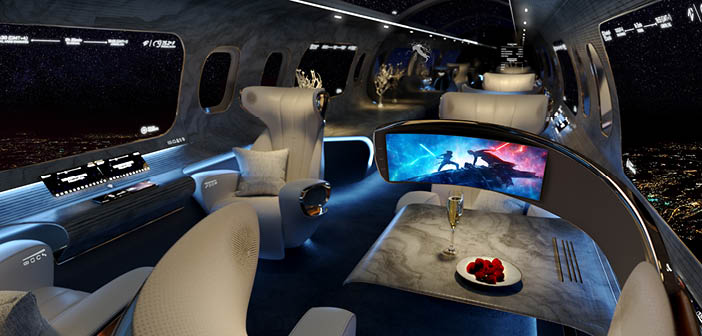 "We are thrilled to be nominated for a 2021 award; this is the next step on what is an exciting journey reshaping the business aviation industry," said Lee Clark, senior vice president of strategy at Rosen Aviation. "The Maverick Project is the culmination of visionary insight and expertise, and Rosen is pleased to be a part of Design et-al's 2021 awards ceremony."
"The fact that Design et al has selected Rosen as a finalist for the IYAA honours us since we are 100% committed to quality and excellence," said Max Pardo, founder and CEO at KiPcreating. "I think that the Maverick Project shows how teamwork can drive to success: innovative technology meets great design and stunning visuals."
Rosen says the Maverick Project has already garnered substantial acclaim from industry OEMs. The company hopes to see the future it has envisioned, with the help of its creative partners, integrated into production aircraft. Previously regarded as a display specialist, Rosen's intention for the Maverick Project was to showcase broader expertise in cabin electronics. The company notes continual research and development investment in hygienic, touchless solutions; haptic feedback; software-defined surfaces; virtual windows with augmented reality; and many other new technologies.